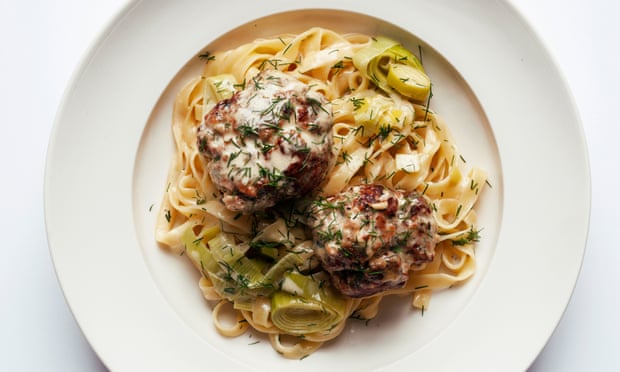 A new variation on a spaghetti and meatball theme. By Nigel Slater
Source: Nigel Slater's sausage meatballs with leek tagliatelle recipe | Life and style | The Guardian
The recipe
Slit about 600g of butcher's sausages – something herby – along their length, then peel the skin from the meat. Put the meat in a mixing bowl and add 2 level tsp of dried chilli flakes, and 2 heaped tbsp of chopped fresh dill. Mix the meat and flavourings lightly together, then break into 6 equal pieces and roll each into a ball.
Slice a leek into thin discs, about 1cm in thickness, then wash thoroughly. Warm 2 tbsp of olive oil in a shallow pan. Brown the balls, rolling them occasionally to colour evenly. Leave over a moderate heat, covered, until cooked right through – a good 10 minutes. Remove the balls, then add the leeks to the pan and let them cook in the pan juices for 7 or 8 minutes until soft and tender.
Meanwhile, bring a large pan of salted water to the boil. Cook 150g of tagliatelle until tender, then drain.
Stir 250ml of double cream into the leeks, season with a little salt and pepper and a handful of chopped parsley then add the drained pasta to the leeks. Return the sausage balls to the pan. Let everything bubble for a minute or so, then serve. Enough for 2.
The trick
The quality of the sausage is crucial, which is why I use tried and trusted butcher's sausages. If you are using plain sausagemeat, consider seasoning it first: a pinch of mace, finely chopped parsley, thyme and rosemary, and perhaps a little garlic, will all help.
The twist
Tarragon leaves, chopped if large, are good with leeks and cream. Add a tablespoonful to the sauce when you pour in the cream. In place of the leeks, use large, sweet onions, cooked down for a good 20 minutes in a little butter and oil till sweet and sticky.